"When I bought Midway I was doing everything myself. Growth was outpacing industry standards but it was incredibly difficult to successfully complete operational tasks and execute all business development opportunities. Then I brought on Forrest with TopLine Growth to revamp our marketing and the results were astounding. We doubled revenues in three years and have continued to grow through COVID. Most entertainment businesses aren't leveraging technology to improve their revenue. It is the way of the future and I can attest to that first hand."
After taking over Midway Lanes, a 29-year-old entrepreneur breathed new life into what is now a 64-year-old business.
There's no getting around it. Fun is a priority at Midway
Bowl.
Located in the heart of Pennsylvania's Cumberland
Valley, the 32-lane center is in the business of fostering a
good time as proclaimed in the mission statement posted
on its website: "Create fun! The mission at Midway is
to create a fun, inviting, and entertaining destination for
people of all ages."
The simple mantra has become a profi table guiding light
for third-generation owner Dan Mowery, a 29-year-old
entrepreneur who acquired Midway Bowl in 2016.
"From the beginning, I realized that this business was
all about creating fun, so why not make that our mission
statement and have employees embody it, put it on
our website, put it on everything, and live, eat, breathe it
because that's why your customers are coming here," he
says. "They're here to escape and have fun, so it's our job
as a team and business to create fun for them."
Although the business had been in the family since his
grandfather founded Midway Bowl in 1956, Mowery's
prior experience at the center was limited to working a
few shifts before embarking on some college, then stints
in the food, beverage and golf industries. But when the
opportunity to buy the family business came around in
2016, Mowery leaped.
The food-and-beverage service was the first area to be
revamped.
"I felt that that was going to be the easiest way to start
generating cash fl ow for additional renovations," says
Mowery.
He was right. After renovating the kitchen and service
areas, and revising the menu at the center's SpareTime
Lounge, the return on investment was strong enough
to expand the kitchen to accommodate more in-house
catering and special events in the planned birthday and
corporate party rooms. The online birthday party reservation
system has already boosted business.
"If you're not doing birthday party reservations online
yet, absolutely do that," says Mowery. "Between 5 and 10
percent of our sales now is the online sales for birthday
parties, which is great because it's all cash fl ow positive."
After taking out four of the 36 lanes to repurpose for
other revenue streams, Mowery struggled to fi nd the right mix for the newly created 1,500-sq.-ft. space. He took unprofi table runs with a virtual reality arcade and then live bands before fi nding the right fi t — a golf simulator. The addition has been so successful that plans are in the works to add at least one more to the facility. The center now also offers bocce and houses 20 arcade games. Those experiments have taught Mowery to evaluate ROI quickly and hesitate about making a quick pivot. "One principle I've had since the very beginning is to be scrappy and lean with your operations. We've made capital improvements, but they've always been on a tight budget and with a really clear plan of how we're going
Whether it involves bowling, another attraction or serving customers, Midway Bowl proprietor Dan Mowery believes in making every aspect of the center's operation fun.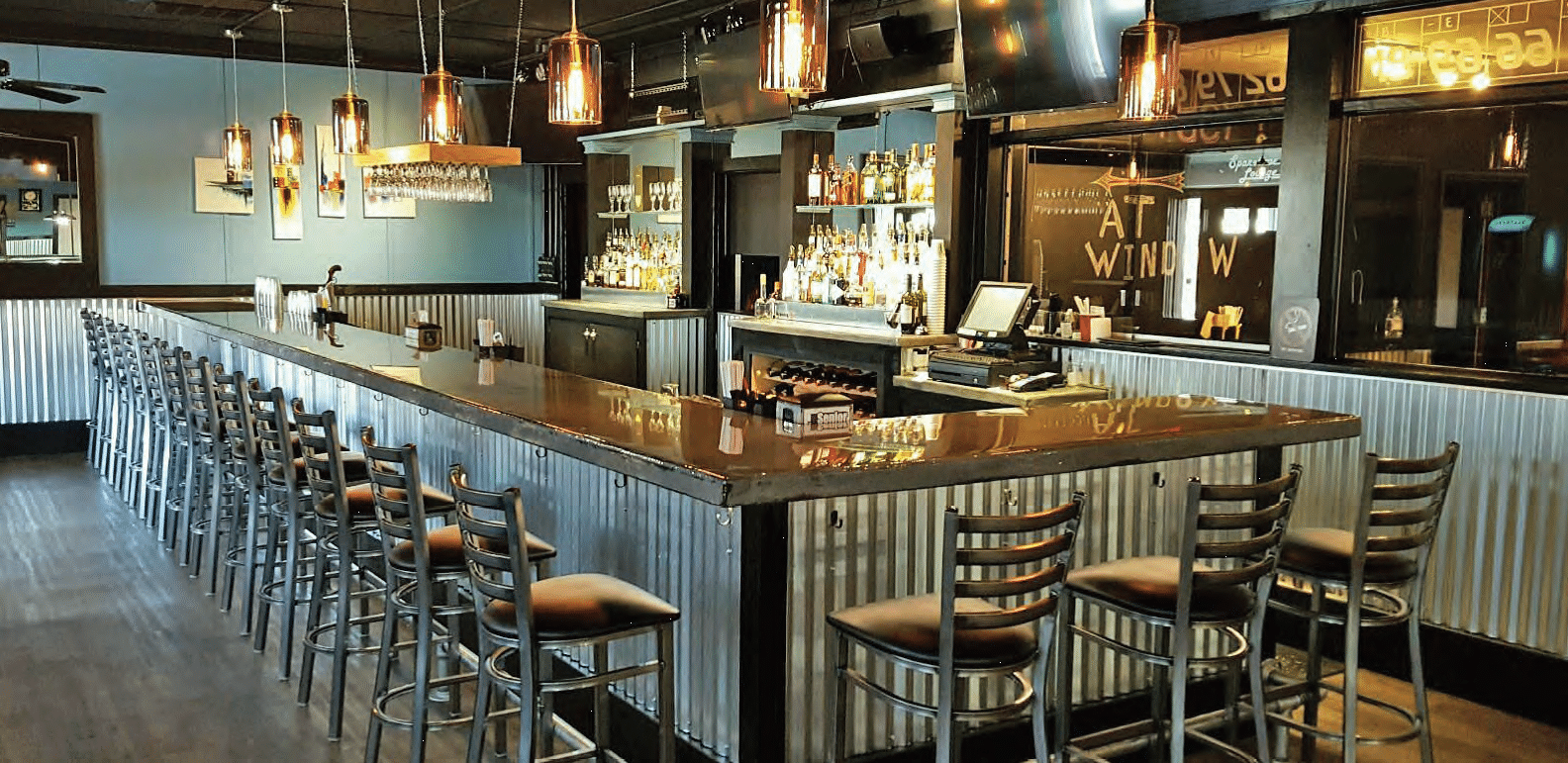 It's projected that food-and-beverage revenue at Midway Bowl will increase to 60 percent of overall center revenue this year.
to get the return out of it. That's always kind of been the way we've done it, just to keep profi ts building for further reinvestments and to pursue other projects." Mowery and his team also rely heavily on spreadsheets and data to help track the profi t areas and best-performing product lines. The most surprising to date? Bottled water, which has been one of the center's most profi table items in terms of markup and margins. "You need data to dive into what your business model is as a formula, and when you start to do that, you can make much smarter decisions. We are now looking at additional projects because this business model is a healthy formula." The most recent renovation is the introduction of an outside patio. Repurposing ample parking space, Mowery created a vibrant outside area to maximize food-and
beverage sales while avoiding the seasonality drop-off after the traditional bowling season. "The purpose is to stabilize the seasonality of the business model so we aren't having to rebuild the business every single year," says Mowery. His team plans to heavily promote the outdoor area in 2020, but the spend already seems to be paying off since opening the patio last fall. "When I acquired the center, 24 percent of the facility revenue was coming from food and beverage. This next year, we're projecting with the construction of the outdoor patio that 60 percent will come from food and beverage." While fun is the heartbeat of Midway, Mowery says the "least fun thing" is the most integral business element — creating standard operating procedures. "Consistency is key. You have to stabilize and standard
After removing four lanes and experimenting with various attractions, the one that ultimately stuck was a golf simulator. Plans now call for a second to be installed.
ize operations with consistent training procedures so when people come in the door, they know they're going to have a great time." Once the SOP is in place, Mowery says the emphasis turns to a strong business development campaign focused on branding and marketing, with a dedicated accent on social media and email marketing. Mowery estimates that 80 percent of the center's marketing efforts and 3-4% of overall revenue is geared toward some form of virtual touch. "It doesn't matter what asset you have, if you don't get the word out — get the word out very wisely — you're not going to have a successful business," he says. The email marketing and social-media outreach are outsourced to an agency, Top Line Growth, which includes Mowery as a partner. Data analysis has become a big part of the marketing mix for Mowery and his team. "The key is to get smart about the demographics you want and go after them, maintaining a consistent brand image so people will think, 'Midway. Midway, Midway.'" Always looking ahead at new opportunities, both within Midway Bowl and with other ventures, Mowery also has partnered with a local college business professor to form a business solutions consulting fi rm, Mowery Fisher. The fi rm is focused on business turnaround, including analysis, assessment and restructuring.
A consistent cycle of renovation, innovation and marketing is at the core of Mowery's plan. "Do it in bursts," he advises about the ongoing transformations, ranging from a simple menu change or refreshed painting to substantial construction such as the new outdoor patio area. "Go and do it, spend and then market the hell out of it. Once you have that product line stabilized and profi table, and you have a healthy ROI — which, in my opinion, should never be a day over three years in this industry — then you go on to the next project. Ask yourself this question: Can I put just a couple dollars in here and get some more bodies in my business? If the answer is yes, make the change." The heritage of Midway Bowl has been embraced in the marketing elements, including renovation aesthetics such as the industrial vibe of the bar and the throwback logo design, to amplify the center's long history as a staple of the community. "That's an asset that is sitting there that doesn't cost you anything, and it gets cooler every single day. You can stay retro and capitalize on that while you're not making an investment. It's a huge win to have an asset like that, opposed to constantly chasing renovations." Sparking joy is contagious, Mowery asserts. The "create fun" philosophy has energized the staff and kept the customers coming back for more of everything Midway has
Adding a patio cost Midway Bowl only a few parking spaces, but provided room for several new revenue-generating activities. Colorful murals adorn the patio walls.
to offer — bowling, golf, dining out with friends. Mowery believes the consumer-centric approach is a must. "We try to have a reason for customers to be here every single day," he says. Mowery admits his bowling skills keep his average in the low three digits, but his Wednesday Night Average Joe's League is one of the most popular, fi lling the lanes with similarly 'skilled' bowlers who may never challenge for a 300 game but still love the camaraderie and community of Midway Bowl. Mowery continues to look for new ways to build his customer base and pursue other ventures, but he has learned an important lesson since taking the helm at Midway Bowl: Running a profi table business is fun.